Smartproxy announces some exciting news – they just released two powerful new products – SOCKS5 & HTTP(s) proxies and Static (ISP) Residential proxies on June 6th, 2023, Let's Unleash the Power of the Web with Smartproxy's SOCKS5 Proxies.
In an age where digital privacy and speed are paramount, it's critical to have the best tools at your disposal. With the recent launch of Smartproxy's SOCKS5 Proxies, you're now empowered with a fresh, undetectable shield that will keep you safe, sound, and speedy online.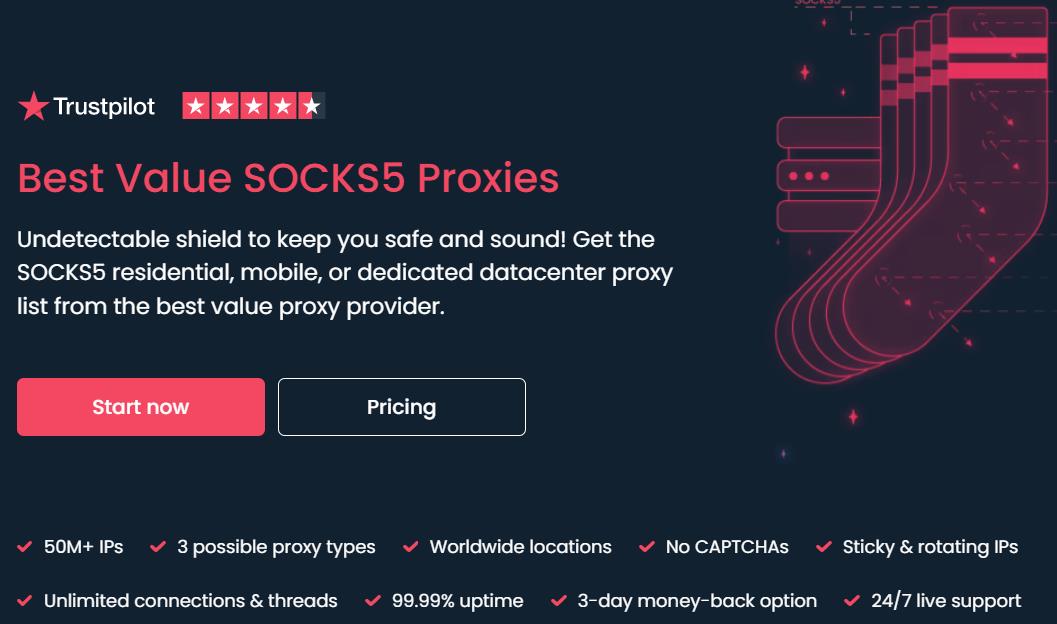 SOCKS5: The Latest Version of SOCKS Proxies
SOCKS5 is the latest iteration of the Socket Secure (SOCKS) protocol. It brings a new level of efficiency and speed, making it a better, faster, and stronger option than ever before.
The SOCKS5 Proxies from Smartproxy come in three types: residential, mobile, and dedicated datacenter proxies. With its maximum anonymity and powerful firewall bypassing capabilities, SOCKS5 is perfect for reaching restricted content and keeping your online activities stealthy.
Smartproxy's SOCKS5 Proxies: An Overview
Smartproxy's SOCKS5 proxies come in the form of residential, mobile, and dedicated datacenter proxies. Each proxy type offers unique benefits and functionality. The residential proxies give you access to over 50 million IPs across the globe, whereas the mobile proxies ensure you remain undetectable with their high anonymity levels. The dedicated datacenter proxies offer both HTTP(s) and SOCKS5 types, providing you with unlimited traffic.
These proxies come with a variety of features that make them stand out. With no CAPTCHAs, sticky & rotating IPs, and unlimited connections & threads, let's look at in details,
The Perks of Using Smartproxy's SOCKS5 Proxies
Smartproxy's SOCKS5 Proxies are feature-packed, providing a plethora of benefits for users. They offer a whopping 50 million+ IPs and three proxy types to choose from, ensuring a perfect fit for all kinds of online activities.
50M+ IPs with both static and rotating options​
Exceptional performance and compatibility with various applications and devices​
Unlimited connections and threads with a <0.3s average response time​
99.99% uptime, guaranteeing continuous and reliable service​
24/7 live support, ensuring that help is always at hand when needed​
Pricing and How to Get Started
Getting started with Smartproxy's SOCKS5 Proxies is a breeze. Simply register or log in to the dashboard, choose your preferred proxy type, go to the Pricing tab, and pick a plan that best suits your needs. Prices start from as low as $7.5, making it an affordable option for maximum online anonymity and performance.

Quality-Price Ratio: Getting the Best Bang for Your Buck
Smartproxy has won the Best Value Provider award, and it's easy to see why. They offer premium services at a bargain, with a slew of free tools and a customer support team that never sleeps. With Smartproxy, you're not just buying a service – you're investing in a trusted partner for your online journey.
Conclusion
In the world of proxies, Smartproxy's SOCKS5 Proxies are a game-changer. With their unbeatable speed, versatility, and price, they offer an unmatched internet experience. Whether you're aiming to maintain your anonymity, bypass firewalls, or access restricted content, Smartproxy's SOCKS5 Proxies are the best tool for the job.
---
FAQs
What is a SOCKS5 proxy server?
A SOCKS5 proxy server uses the latest version of the SOCKS internet protocol, offering added privacy and speed-related benefits.
What is the difference between HTTP and SOCKS5 proxies?
HTTP proxies are suitable for web browsing and visiting websites, while SOCKS5 proxies are more versatile and can handle any type of traffic or protocol, including torrents, email, and internet gaming.
Why should I choose SOCKS5 proxies over HTTP proxies?
SOCKS5 proxies provide more anonymity than HTTP proxies. They can handle more types of traffic and can bypass internet filters more effectively.
Can I get the SOCKS5 protocol with residential proxies?
Yes! Smartproxy's residential proxies come with both HTTP(s) and SOCKS5 protocols.
Does the SOCKS5 protocol work with dedicated datacenter proxies?
Absolutely! You can get SOCKS5 proxies with Smartproxy's dedicated datacenter proxies with their dedicated datacenter proxies.